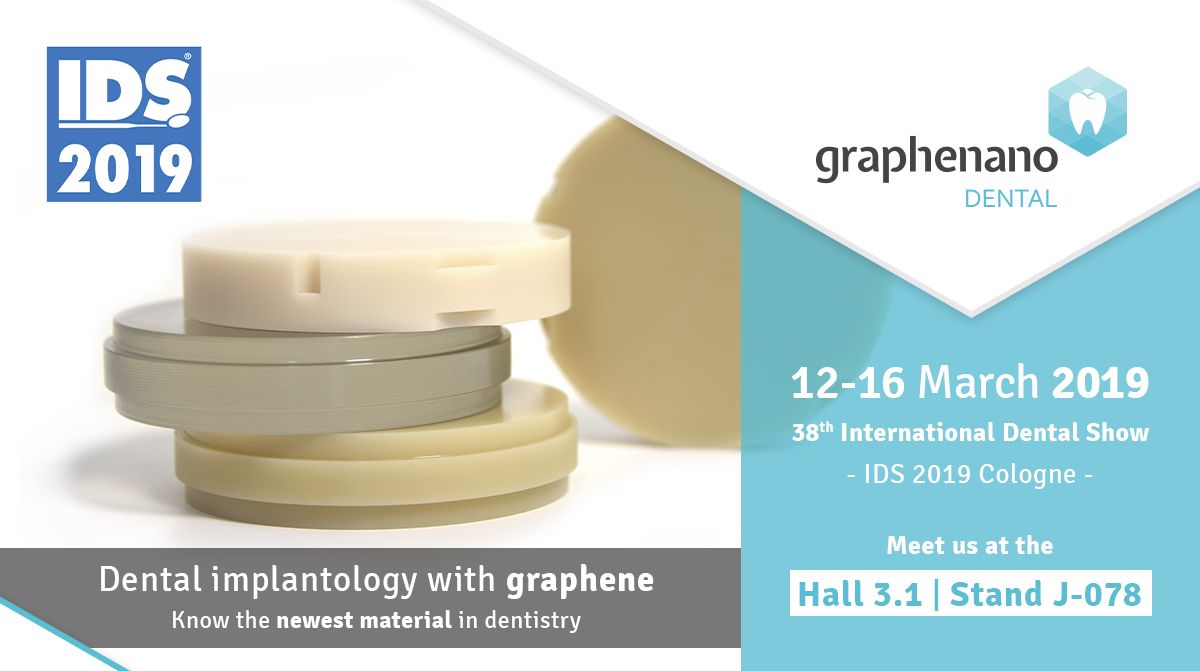 11 Mar

Graphenano Dental presents its Graphene G-CAM disc at IDS

This year, IDS hosts Graphenano Dental, the first Spanish Company to develop a disc with graphene for CAD/CAM system

Graphenano Dental, subsidiary of Graphenano group, attends the 38th edition of IDS, major international dental trading show. IDS takes place in Cologne from 12 to 16 March and is expected to realise the same success of previous editions. With more than 200 exhibitors of 550 countries, IDS has consolidated itself as a reference of dental specialists and a great opportunity to entrepreneurs to network and to know de latest advances and new technologies in dentistry.

Undoubtedly, Graphenano Dental's product is one of the most innovative implant solutions. G-CAM is a graphene nanoreinforced biopolymer disc for fixed dental prosthesis using CAD/CAM drilling technology.

This new, durable and versatile material such as PMMA but nanoreinforced with graphene, is the comprehensive solution for restorative dentistry due to its many mechanical, physical, chemical and biological properties.

G-CAM disc can create dynamic and flexible prosthesis that support the masticatory forces, have a surface hardness slightly below the hardness of a natural teeth and balance the weight of natural dentition. Stronger and more durable prosthesis, easy to repair and highly aesthetic, which have already been tested by some of the best national and international dental technicians and dentists.

G-CAM disc is used like monolithic material, thus, it does not require sintering nor thermal processes, so the working time is reduced to a minimum obtaining successful results. If the manufacturing time of a metal-ceramic or zirconium-ceramic is between 25 and 30 hours, with G-CAM disc the time is reduced to 2 hours because, once milled, the tooth is made-up with light-curing stains. In this way, daily work in the dental laboratory becomes more effective and absolutely easy and quick.

If you want to know more about our G-CAM disc, we are at stand J-078 del hall 3.1. See you there!