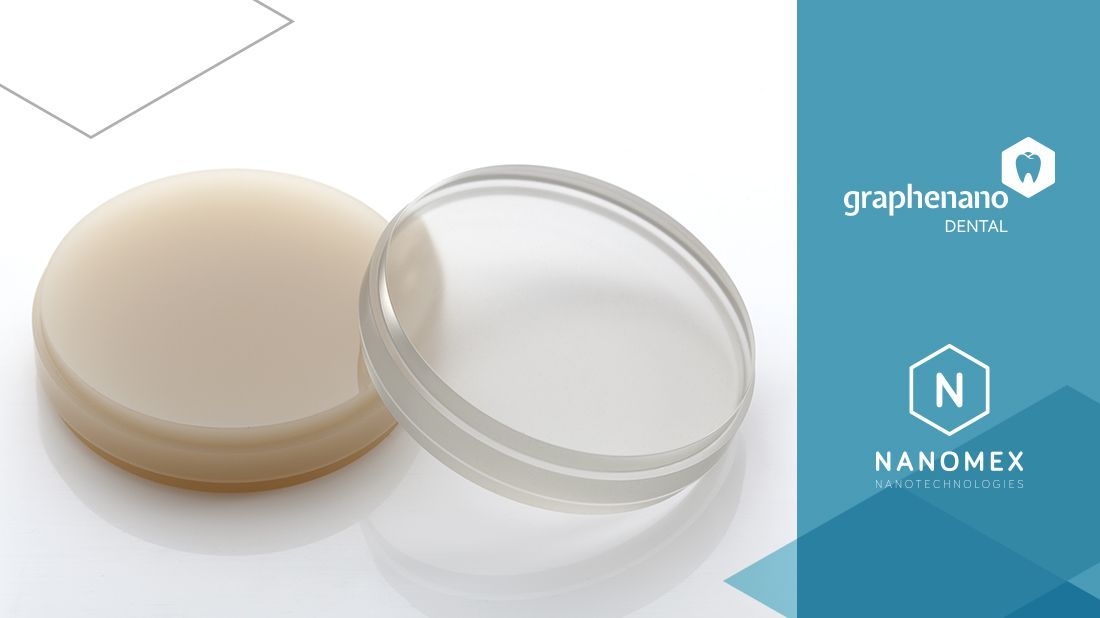 16 Nov

GRAPHENANO DENTAL INTRODUCES ITS DENTAL PRODUCTS WITH GRAPHENE IN MEXICO

NANOMEX will be the business platform from which dental discs for CAD/CAM and other Graphenano products are marketed in Mexico

Technology, durability and hygiene are fundamental factors in the new product that NANOMEX, a hundred percent Mexican company, imposes with great reception in the dental sector, said Alfredo Núñez, general director of that industry.

Accompanied by its director of the Dental Division, Carlos Girón, they made nanotechnology known in a high range of dental products based mainly on graphene, a carbon product that, with its incorporation of other elements, forms a resistance to durability, sustainability and hygiene, to make dental prostheses that couple with the human mouth.

This technology is a development in Europe, "we bring it to the country to accomplish what many Mexicans require in a good oral dental work, aesthetic, durable and, above all, that does not form bacteria that harm health," he said.

Similarly, he explained that the cost of final product in our country will not be greater than the one sold in Spain -country of manufacture- "although when imported to Mexico, some tariffs are paid that raise the price of the product".

When specifying how the idea of bringing this technology to the country came up, Alfredo Núñez said that it was a long process not only to find the product, but also to make a commercial approach with Graphenano group, company that owns the patent and who guaranteed the negotiation upon knowing that Mexico it would be the platform for marketing the product.

"We think that our country in the short term, will be the hub of nanotechnology products that will mean, in turn, the watershed in sectors such as oral health, rehabilitation prostheses, construction of anti-seismic houses and manufacture of an infinity of products, which, in a short term, they will reduce the costs of their production", argued Núñez.

He added that NANOMEX will also be an important company in the creation of direct an indirect jobs, that will allow the economic development of some areas where not only scientific laboratories, but also warehouses and production facilities can be established to create and manufacture from a rod with graphene to construction processes of extreme durability and low cost.

He indicated that the first industrial plant is being built for the time being, but it is not excluded the possibility of creating others plants in the north of the country, east and west, with the support of state authorities.

Alfredo Núñez said that the contribution of venture capital by his company was with the certainty that the products derived from graphene not only will leave a profit but a welfare to whoever acquires it, for the characteristics already mentioned: low cost, durability and ecological friendliness.

In his opportunity, the director of the Dental Division of NANOMEX, Carlos Girón, affirmed that the acrylic resins with which they work for the creation of dental prostheses are materials that adapt quickly to the mouth functioning and do not create bacteria to the detriment of the health.

"What a true dentist looks for his clients, is that they do not return to change their dental pieces in a fast way, but instead they will endure. That also means a benefit of the patients' family economy and the quality of the professional work.

Girón Gutiérrez said that when he approached the company, he was skeptical about these resins, but seeing the results, he has become its main promoter and, as a consequence, has a transcendent part that brings innovation to the country with low prices.

NANOMEX, asserted its leaders, will continue investing and betting on the manufacture of quality products with technological innovation, but mainly with the extra that generates significant savings to the economy of its customers, in these times of financial turbulence that we all face equally.

Source: Legisladores.