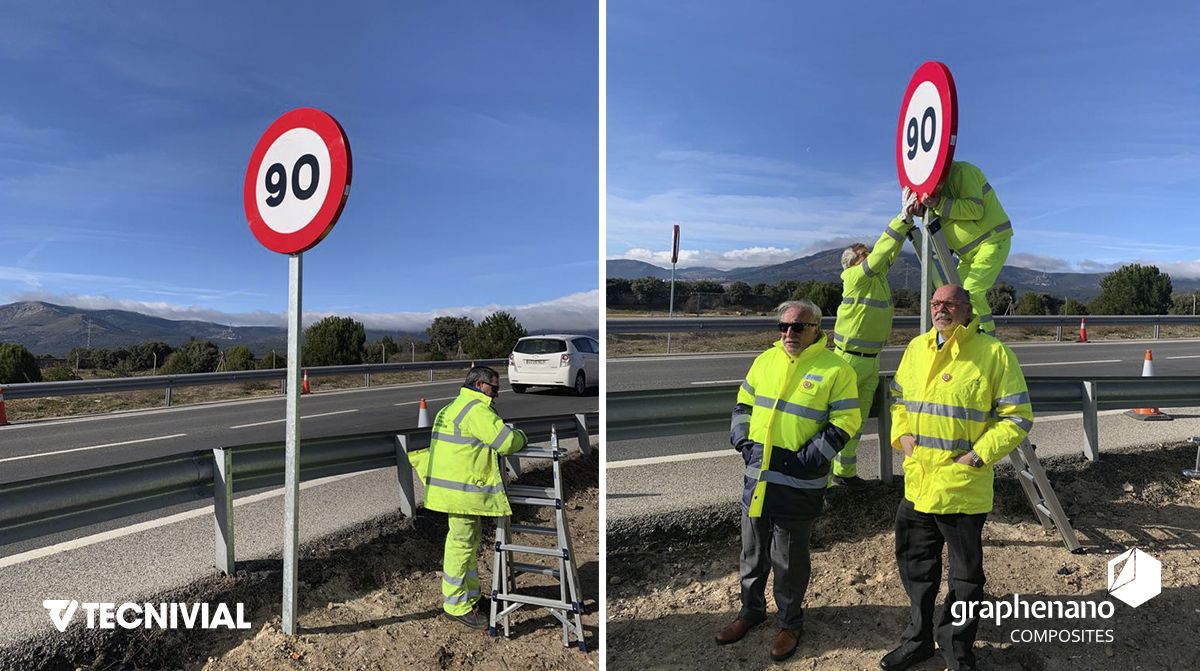 12 Feb

Nanotec signals get the CE mark and are already placed on our roads

Graphenano Composites has collaborated with Tecnivial in the manufacture of these traffic signals that represent a milestone in innovation

On January 29, the Ministry of the Interior and the General Directorate of Traffic announced the entry into force of the new speed limit on secondary roads that goes from 100 to 90 km/h. This has meant a change in signage to adapt it to the new regulations. One of the companies in charge of this is Tecnivial.

In the symbolic act, organized by the Ministry of Development and the DGT, Tecnivial installed the first Nanotec signal. The event was attended by Javier Herrero Lizano, General Director of Roads of the Ministry of Public Works; Pere Navarro, General Director of Traffic; Gloria Ramos Palop, General Manager of State Roads Demarcation in Madrid; Jaime López-Cuervo Abad, Deputy Director of Conservation of the Ministry of Development; Roberto Gómez, from Sarrión Construcciones and Joaquín Izquierdo, General Director of Tecnivial.

Nanotec signals, which have recently obtained the CE mark, are the result of the collaboration between Tecnivial and Graphenano Composites. For its manufacture, CompoGraph resin was used, a resin developed by Graphenano Composites but manufactured and distributed by Gazechim.

CompoGraph resin contains graphene, that is, carbon nanoparticles that give to Nanotec signals more resistance as compared to metal or aluminum, the materials used to date in signaling. In addition, Nanotec signals have an excellent behavior against humidity, aggressive environments and corrosion. They are easy to install and maintain thanks to their lightness (only one person can carry out the installation) and guarantee a high durability, leading to significant cost savings.

Nanotec signals can already be seen on some Spanish roads, such as those in the province of Castilla y León where all the vertical signs of 100 km/h, made of aluminum by stamping, have been eliminated to replace them with ones of composite with a driving ban of 90 km/h.