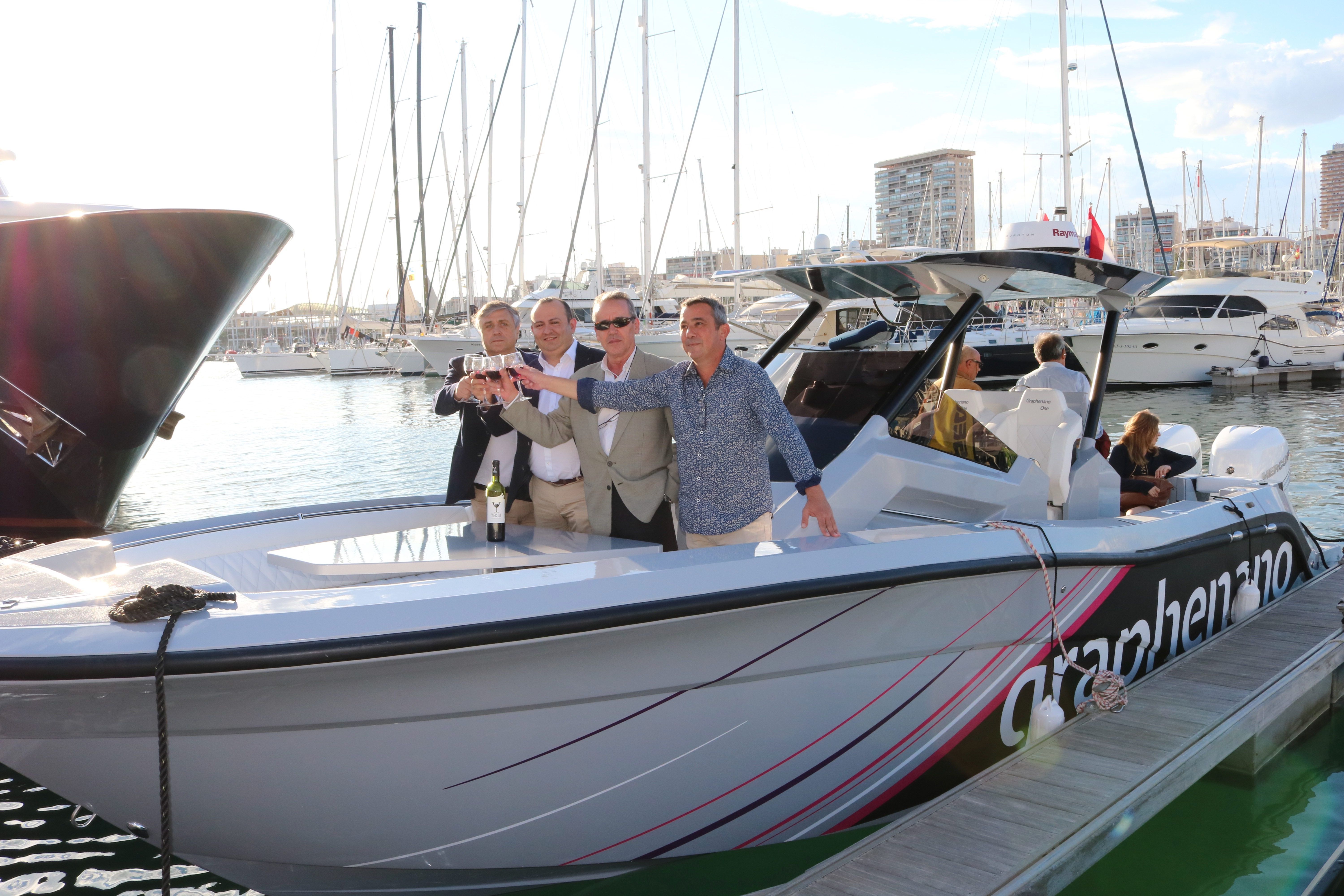 20 Oct

The company Graphenano launches its boat before the world references of navigation

Martínez Rovira confirms that they already have orders from Central America in their coming out in the framework of the Volvo Ocean Race, in Alicante

It is lighter, faster, offers less resistance, its maintenance is cheaper and consumes less fuel. 'Graphenano One' is the name of the first boat with graphene that is manufactured in Spain and has been made by a company from Yecla: Graphenano. Alicante was the scene of the presentation yesterday afternoon. More than a hundred people met in a hotel located between El Postiguet beach and the marina to know about the details of this boat made with a mixture of resin and graphene.

Taking advantage of the celebration of the Volvo Ocean Race – the round-the-world yacht race- in Alicante, the company's management wanted to show the result of «years of research and work», in which universities from several Spanish cities and the staff of Graphenano Composites (Elche) have cooperated, to the world nautical sector.

The boat has just over nine meters in length, whose weight has been reduced by 20% in comparison with a similar boat built with traditional materials. In addition, it has the latest technology in navigation and has two outboard motors that allow speeds of up to 75 mph (miles per hour). The assembly of the 'Graphenano One' systems has been carried out by a team of Dutchmen led by John Biesheuvel, recognized as one of the world leaders in the field of the preparation of high performance boats.

Its price in the market will be around 280,000 euros, a little more expensive than traditional boats of its size. "We already have a couple of orders and the interest of a Central American country to use it as patrol boats because of its speed and also because of the low maintenance costs of the hull," said Graphenano president Martín Martínez Rovira, who celebrated with wine from Yecla that the boat with graphene is already sailing through Mediterranean waters.

Material production

Since a few years ago Martínez Rovira brothers announced their desire that Yecla was known for graphene production, news about this material are constant. At present, Graphenano has two industrial warehouses in the municipality. One dedicated to the manufacture of the own graphene that, according to explain the managers, has become small before the demand that they have. And another factory dedicated to the production of graphene cells for batteries. In it, 5 of the 30 production lines are already in operation and, when all them are in full swing, they will be able to manufacture 90 million cells each year.

"80% of what is manufactured goes to China, where the demand for batteries is very high," explained the company's president, Martín Martínez Rovira.

Source: La Verdad de Murcia.