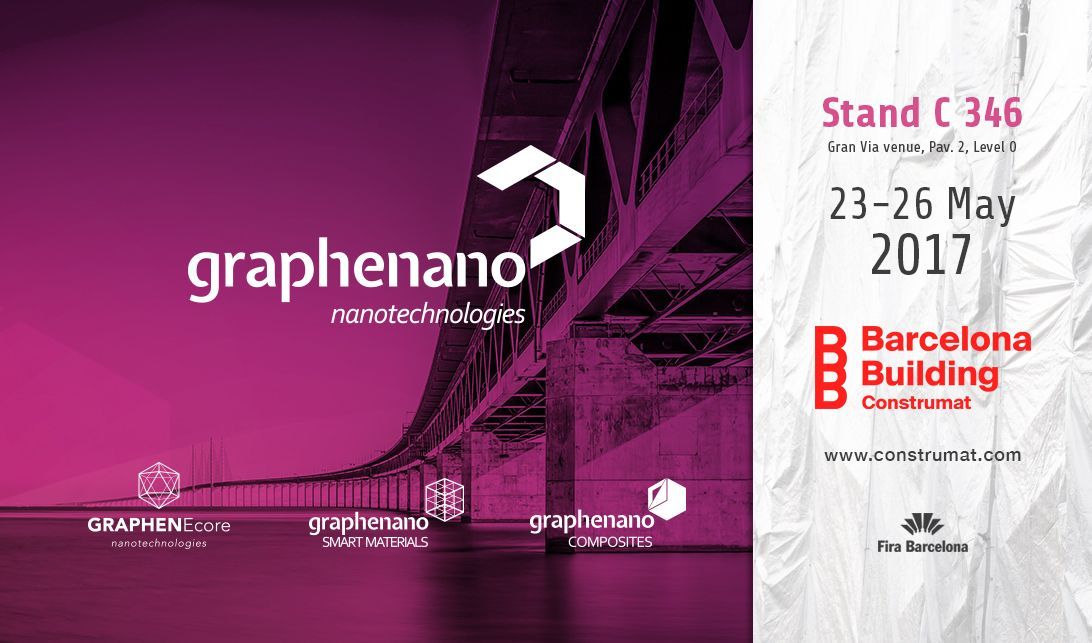 21 Apr

Graphenano presents at Construmat 2017 its applications of graphene in the construction sector

Graphenano Smart Materials, GRAPHENEcore and Graphenano Composites are the three subsidiaries of the group that will attend the Fair

From May 23rd to 26th, the most prestigious international construction fair in Spain is held in Barcelona. Biannual, Barcelona Building Construmat is the only event of this kind that includes all sectors of construction and brings together prescribers, manufacturers, commercial, international buyers and leading companies in the sector. Construmat not only showcases recent innovations, but has become a forum for debate and reflection on the responsibility of the sector and future opportunities, constituting itself as an international benchmark in innovation, knowledge and business fields.

In this edition of Construmat 2017, the Graphenano group will attend with three of its subsidiaries, those dedicated to the field of architecture, interior design and construction.

Graphenano Smart Materials will announce its graphene additives for advanced building materials, such as concrete and special, high performance and environmentally friendly cements; as well as a new formulation of micromortar with graphene, SmartCOVER Micromortar, which guarantees decorative coatings of great resistance, hardness, elasticity and impermeability.

GRAPHENEcore will come with its shower trays with graphene and natural mineral charge, 100% ecological. The material composing them, registered as SolidGRAPHEN, has been awarded with Cradle to Cradle Silver, the most prestigious certificate in the world that rewards innovation and sustainability. As a novelty, Construmat presents a shower tray with a new color, age-old gold, in a new texture that imitates the wood streaks.

For its part, Graphenano Composites shows its pultrusion products with graphene (resin additives) and fiberglass. Under the name of CompoSmart, this material presents spectacular technical improvements in resistance similar to steel, reducing weight by half, and increasing the flexibility and durability of all types of profiles, corrugated and beams.

Undoubtedly, the differential value of Graphenano is its raw material: graphene. The carbon nanomaterial has been revealed as a great ally for architecture and construction due to the incredible technical properties that it brings to all the materials in which it is applied: greater resistance to traction and wear, greater hardness and flexibility, greater impermeability and protection against external agents, in addition to other innovative properties such as thermal and electrical conductivity or bactericidal effect. These advantages result in an increase in the useful life of the graphene-added materials, in a less maintenance of the constructions and in a considerable cost savings in raw material, energy and transportation.

Graphene not only improves the technical characteristics of the materials making it an excellent element of structural reinforcement, but also promotes sustainable and environmentally-friendly constructions.

Discover the latest nanotechnology solutions for your home at Construmat 2017. Come and visit us at booth C 346, level 0, Pavilion 2, Gran Via venue.