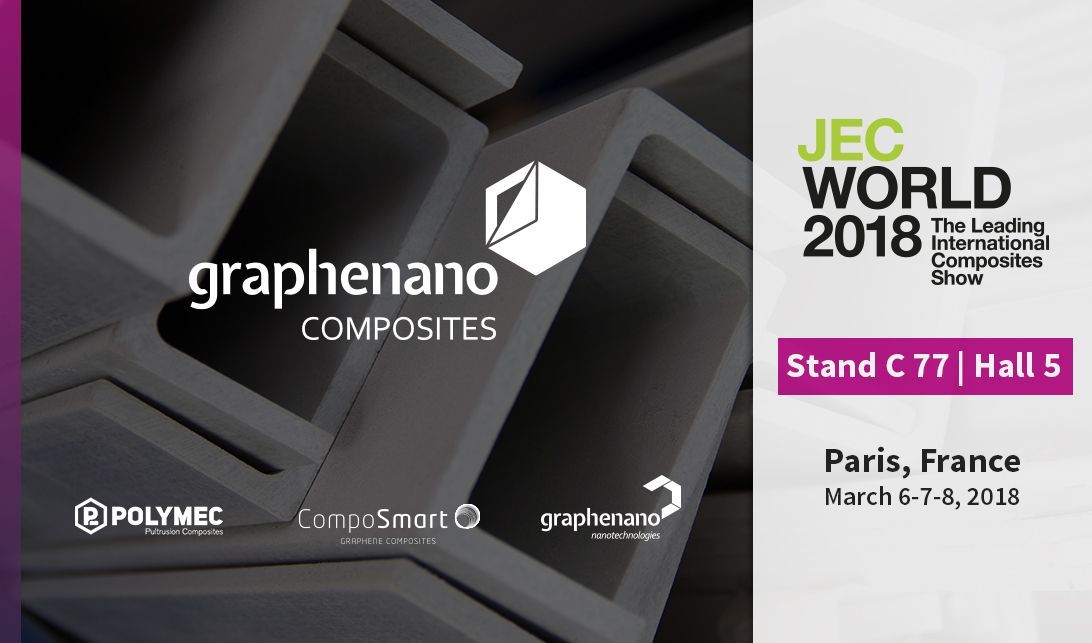 31 Jan

Graphenano Composites and Polymec present their pultrusion profiles with Graphene in JEC World 2018

The leading international composites show will take place from 6th to 8th March 2018

Graphenano Composites, subsidiary company of Graphenano group, will attend the next edition of the largest exhibition about composites sector, the fair JEC World 2018, accompanied by Polymec, a company with many years of experience in the sector, in order to make known the first pultrusion profiles with Graphene in the world.

Graphenano Composites offers a wide range of profiles, including beams, corrugated rebars, tubes, bars and flats. All of these, under the trade name CompoSmart, are manufactured and marketed by por the company from Murcia Polymec, with which Graphenano has a technological and commercial agreement.

CompoSmart profiles are the first in the world that are manufactured from glass fibre reinforced polyester resin through the process of pultrusion. Graphenano and Polymec work together with Gazechim, a European leader in distribution of composites, for the supply of resins which are formulated with Graphene in Graphenano Composites' laboratories.

Graphene improves mechanical characteristics of conventional resin profiles, in this way the tests performed by AIMPLAS, Technological Institute of Plastics (Spain), certify it.

Thanks to this carbon nanomaterial, polyester profiles equal or exceed the mechanical resistance of higher cost and higher technology resins, have a greater structural rigidity and a higher traction resistance, increasing the ultimate tensile strength by more than 30% when compared with the standard GFRP profile. Graphene reduces weight but retains the same mechanical characteristics without influencing its durability, this last property also improves thanks to protection against hydrolysis and bacteria which Graphene ensures.

These profiles advance a new time in construction industry, allowing the change from metal age to composite age, with the best and more advanced properties.

At JEC World 2018, Graphenano Composites also want to exhibit the development of it boat Graphenano One, first in the world to add Graphene to its structure, in this way it can optimize the raw material needed to obtain maximum resistance and thus help reduce its weight by more than 20%. So Graphenano One is presented as the lightest, faster and more efficient boat in its class. At JEC World 2018 will be on show an explanatory video about its building and meet in person the authors of this breakthrough in the naval sector.

Come and visit us at our booth C 77 hall 5, and check for yourself how Graphene achieve to improve composites. See you all there.