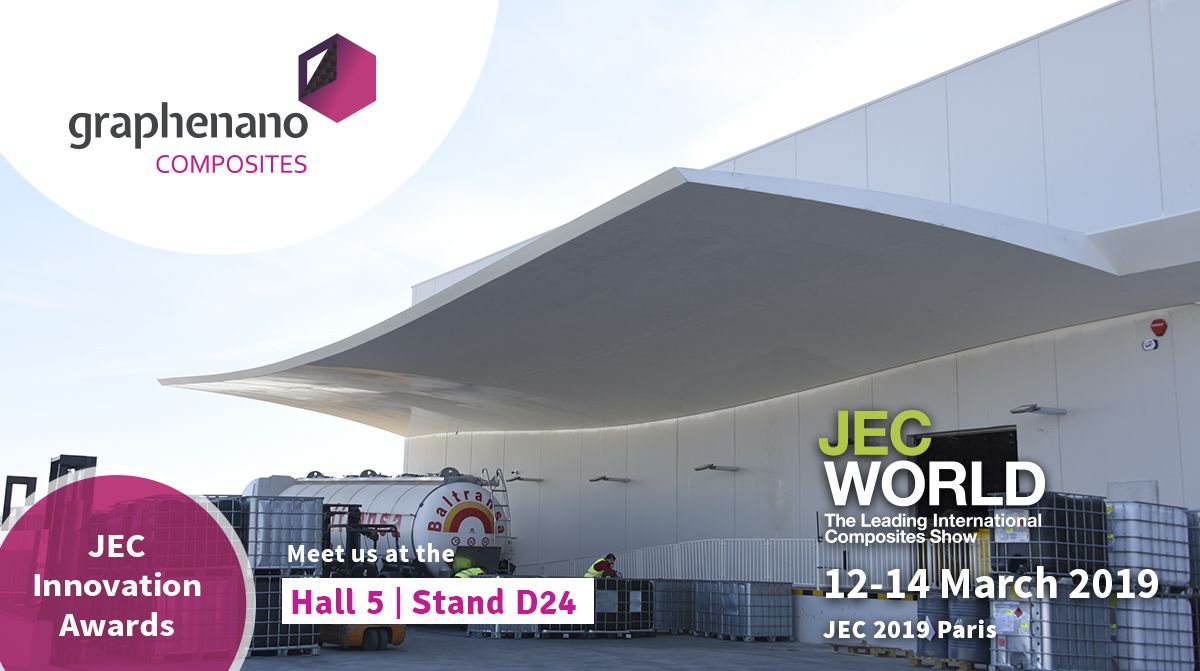 11 Mar

Graphenano Composites attends JEC World 2019 with its CompoGraph graphene resins

For the second consecutive year, Graphenano takes part at the leading international fair in the composite sector 

Graphenano Composites, a subsidiary of Graphenano group, attends the next edition of JEC World 2019 in Paris, the only global fair that brings together the composites industry and is considered the largest international platform where exhibitors and visitors can find a full spectrum of new processes, materials and solutions for composites sector.

This time, Graphenano Composites wants to show some of the developments that have been possible thanks to use of CompoGraph resins, a range of cutting-edge resins with graphene which manufacturing and distribution are led by Gazechim, Europe's leader of the sector.

And indeed, for the headquarters of Gazechim Composites Ibérica in Valencia, Graphenano Composites has developed a cantilever canopy of more than 340 m2 which, in real terms, is the largest piece in the world made with graphene composite. It is a self-supporting structure that seems to hold in the air and shows the benefits of composites in terms of strength and lightness. This canopy is one of the projects eligible for the JEC Innovation Awards.

Another important project of Graphenano Composites is the Nanotec sign developed together with Tecnivial, Spanish benchmark in signalling and road safety. Nanotec signs increase their mechanical features and lightness compared steel or aluminum signs, and have been subjected to demanding tensile strength, breakage, elasticity, durability and wind tunnel tests overcoming wind efforts equivalent to the passage of a train through a tunnel at more than 310 km/h, complying with European regulations EN 12899-1 and obtaining the CE marking.

Beams and profiles CompoSmart pultruded with fiberglass have also been created with CompoGraph resins, and its resistance and other mechanical properties have been exponentially improved. This way, tests performed by AIMPLAS (Technological Institute of Plastics) certified it. CompoSmart profiles are manufactured in Polymec, company with which Graphenano Composites maintains and technological and commercial agreement.

Another development is Graphenano One boat, a worldwide pioneer in integrating graphene into its entire structure. In this case, graphene resin has allowed the Graphenano One to be 20% lighter and much more resistant than any other boat in its class, gaining in lightness and efficiency thanks to the reduction of the raw material necessary for its construction.

Come and see these and other developments with our CompoGraph resins at the JEC World 2019. You will find us at stand D24 in hall 5.